HEY! I'm still alive. I think 🙂 These are my eats from Monday. I kept feeling hungry – with no idea what I really wanted to eat. Thus, random eats + snacks all day. It happens.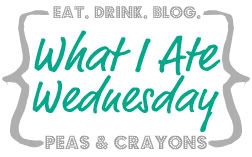 Breakfast:
How are you feeling about the flannel + shorts? I am sort of in love with it 🙂 I had a super early dermatology appointment to look at a troublesome mole. Turns out the mole was a scar from a bug bite. Opps. In my defense, I've had about a half dozen "pre cancerous" moles. So I have all the right to be a little freaked out at times! Anyways. Breakfast was a quick KIND bar before running out the door.
Breakfast part 2:
Post – Doctor me and my computer spent a good deal of time on the back porch. And we sipped some hot lemon + honey water 🙂 It was a lovely back porch day!
Mid Morning Snack:
And then the munchies started. I kept wanting snacks, but I couldn't pinpoint exactly what I wanted. So I just kept eating. First was some chips, hummus and chipolte sauce < So good.
Lunch:
Lunch was leftover chipolte from the other night. It was just enough of a bowl to really want more chipolte. However, I seem to always feel that way about chipolte. They own my soul.
Afternoon Snack:
About 4pm I really needed and peanut butter and jelly sandwich. Yep. Needed. SO GOOD.
Dinner:
Mondays are usually my "work at Panera so I can get vegetable soup" days. There was really heavy rain Monday afternoon, so I didn't make it there to work. Nathan needed dinner at work Monday night, so – of course – I brought him Panera. Vegetable soup. Delicious.
Dessert:
After dinner I wanted some sweets, and so I ended up with this Uber dark chocolate turtle bar. And a spoonful of maple almond butter. AND a bowl of popcorn. Geez! 🙂
Do you guys ever have days where all you want to do is EAT! < I mean, I always want food, but this was a whole new level!
I hope you guys are doing well, and I will talk to you soon!
P.S. –
We should be friends! Find me on Twitter and Facebook
Note – in order to help support the costs of blogging, my site occasionally contains affiliate links. When this happens – everything costs the same for you, but I get a little income as well. Thanks!