The calendar may say it is the end of April, but the weather feels like early November + my head cold has decided that it is Winter. I promise not to sneeze on you. Let's talk about eats!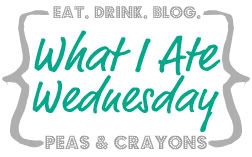 Breakfast Part One:
I've been working on my digestion + a calmer morning routine. Since I started working from home, I no longer have to race out of the house each morning, however, my morning routine of rush-rush-SLURPDOWNASMOOTHIE-rush-rush had not changed. I've decided to attempt at better mornings, by starting them with piping hot water + lemon juice + honey + ginger. It is lovely, because it can't be drank quickly, plus – hot lemon water does wonders for your digestion.
Breakfast Part 2 –
With the new morning routine I've been drinking my smoothie about mid-morning, or whenever I start to feel more hungry after the belly of lemon-water. This has gotten me in trouble a few days – where I get caught up in work and don't get to it before I'm HANGRY. But – I've been trying to have it drank before 930am. Trying. This was a pb&j smoothie, I think?
Lunch Part 1 – By the time lunch time rolled around it was pretty obvious that the scratchy throat I'd woken up with was going to be a sore throat, and that my head and chest congestion were soon following. I ate some leftover cashew-pad-thai from the night before. Plus orange juice. Plus airborne. Plus, I couldn't taste anything, so it doesn't really count, right?!
Lunch Part 2 –
I decided that perhaps getting out of the house would help me feel better (it didn't). So I walked down to Panera to work for the afternoon. There I enjoyed their Garden Vegetable soup (which may have a bit of gluten AND dairy in it). This soup is my new favorite, and Panera is a great + close escape for the stir-crazy afternoons working at home.
Dinner:
I grabbed a quick pizza with my Mum, after which, I was feeling positively snotty-filled and terrible. I settled in at home with a large glass of peppermint tea and wallowed on the couch until bedtime. Uhm. My tea wasn't in a Christmas mug as pictured above, but, it was 30 degrees outside, so this seemed like an appropriate representation.
Apparently my meal-photo-taking-skills are even poorer when I'm under the weather. So sorry! I will talk to you guys soon 🙂
P.S. –
We should be friends! Find me on Twitter and Facebook
Note – in order to help support the costs of blogging, my site occasionally contains affiliate links. When this happens – everything costs the same for you, but I get a little income as well. Thanks!