SO. Monday eats pictures totally didn't happen. I tried again on Tuesday. Here are the results!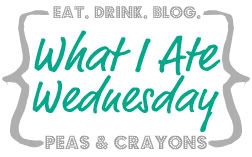 Breakfast:
A banana bread green smoothie! It was actually quite good 🙂 It had: spinach (of course), soy milk, banana (of course), cinnamon, flax meal, vanilla extract and pecans. < APPARENTLY Tuesday was National Pecan Day. I had no clue. Perhaps my subconscious did 🙂
Lunch:
Nachos with Diaya cheese. and salsa. Erm. Not a lunch to write home about, but #RealLife when you don't have much in the pantry and need to eat during a call at work 🙂
Afternoon Snack:
Make. This. For. Snack. Toast (Udi's), hummus, black pepper, Sriracha. Pro Tip – spread the Sriracha around a bit more on the bread. Oy. Highly recommended for keeping feeling in your tongue. 🙂 I had two pieces of hummus toast + OJ. < Been loving OJ recently. So good. Also. It made me SUPER nervous to hold the OJ over my keyboard. Not really sure why I did it. Uhm < best photography skills of the year goes to…
Tea:
If you haven't noticed I haven't been drinking much tea lately! I'm not sure what happened. My weird schedule last month threw it out of my routine, and I haven't picked it back up yet! I enjoyed some caramel apple tea – and it was delightful 🙂
Dinner: Picture or it didn't happen… It happened. But there was no picture. French fries + a black bean quesadilla. Delicious.
So – those were my Tuesday eats! A bit less healthy than usual, but, #RealLife. I hope everyone is doing well, and I will see you tomorrow! 🙂
P.S. –
We should be friends! Find me on Twitter and Facebook
Note – in order to help support the costs of blogging, my site occasionally contains affiliate links. When this happens – everything costs the same for you, but I get a little income as well. Thanks!