FOOD! I felt like this was pretty much all I thought about on Monday. #EatAllThings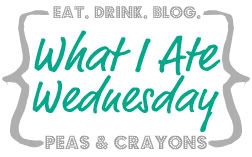 Breakfast:
Smoothie. Pretty sure it was a
PB&J one
. Kind of my staple smoothie as of late. 🙂 Also. Scrap socks. IN LOVE.
Lunch:
Confession – reused picture, because when we got to lunch we were sat in a super dark corner that made for terrible photo taking 🙂 Sweet potato fries < the best. A casserole dish of sorts with beans, corn, veggies and vegan mayo, plus super spicy salsa 🙂 < This place is my favorite to eat at, but it isn't Nathan's favorite. Luckily! I have a new friend who likes to go there! 🙂
Dinner:
After work I went on a long walk with my above mentioned lunch-eating-friend. During the walk we talked about grilled peanut butter and banana sandwiches. Which I uhm..NEEDED when we got home. DUDE. THIS WAS GOOD. A few hours later I was still a bit hungry, so I grabbed a bowl of vegan mac and cheese that I'd made for my brothers birthday over the weekend. Perfection.
I hope you guys are having a great week! I feel like mine is just sailing right along! I'll see you guys tomorrow for Thinking Out Loud Thursday! 🙂
P.S. –
We should be friends! Find me on Twitter and Facebook
Note – in order to help support the costs of blogging, my site occasionally contains affiliate links. When this happens – everything costs the same for you, but I get a little income as well. Thanks!