This week I'm starting to feel just a bit better. Thank you for the love and hugs last week 🙂 You guys are the bestest. Let's talk about FOOD! Here are Monday's eats. Monday was my last day working late hours. Super happy to be back on a normal schedule! 🙂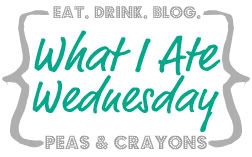 Breakfast:
PB&J Smoothie
. Grey Shirt. Grey socks. It was a gross grey day!
Lunch:
Sweet potato peanut butter soup! SO GOOD! Recipe coming soon!
Lunch Part 2:
Around 3pm I had lunch-part-2 – Another bowl of soup < YES + OJ + some chips. Random, but delicious.
Dinner:
Japanese Vegetable Plate + Udi's cupcakes. < Those Cupcakes ARE SO GOOD! They "accidentally fell in my cart" 🙂 at the store the other day. SO GOOD.
Alright folks! I hope you are all doing well! I will talk to you tomorrow for Thinking Out Loud Thursday! 🙂
P.S. –
We should be friends! Find me on Twitter and Facebook
Note – in order to help support the costs of blogging, my site occasionally contains affiliate links. When this happens – everything costs the same for you, but I get a little income as well. Thanks!