Hey. Yeah. You can call me out on it. I disappeared last week. :/ Sorry. Sort of. More on that tomorrow! First, today. EATS! These are from Monday! And from my last Monday working a super weird work schedule. The different hours was a nice break, but I'm most certainly ready to go back! #IMissEvenings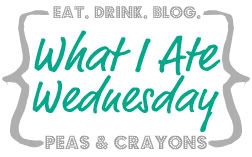 Breakfast:
SMOOTHIE! Did you expect anything less? Soy milk, peanut butter, cherries, strawberries, kale and spinach. < This is my basic go to. You can also find it
here
🙂 I got all kinds of flack on Instagram for not having a straw in this picture. Don't worry, guys. I used a straw. Never drink without one 😉
Lunch:
I got into a PB&J rut this month. This was partially due to having a large excess of Udi's bread in the freezer < Thank you, Costco. And sort of because of the weird work hours. I have been eating breakfast later, not been as hungry for lunch, and pb&j has just sounded good. I used to miss making sandwiches at work, because I'm weird and like my sandwiches on toast < yeah, I know. And gluten free bread + a community toaster = pointless. But, sandwiches for the win now!
Snack:
This coconut almond kind bar is delicious! It reminds me of something that I just can't place…I guess I need to eat more of them to find out 😉
Dinner:
Here is a true example of getting to the last bite of food and then saying OH YEAH! I WAS TAKING WIAW PICTURES! My Mum and I went out for Mexican. I got veggie fajitas – they were delightful! 🙂 Here is the last bit of the perfectly caramelized onion – which is my favorite!
I hope you are all doing well! I'll see you tomorrow for Thinking Out Loud Thursday! 🙂
P.S. –
We should be friends! Find me on Twitter and Facebook
Note – in order to help support the costs of blogging, my site occasionally contains affiliate links. When this happens – everything costs the same for you, but I get a little income as well. Thanks!