Can I have the two second pity party first world problem of hating daylight savings?! Dark mornings are no fun. Waking up Monday morning was ROUGH. Okay. Done. Food time.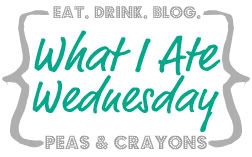 Breakfast:
PB&J smoothie. < Btw. I finally wrote up a recipe. You can
click here
to find it. 🙂
Morning Tea:
Funny story. I started burning a cupcake scented burner upstairs. Then I wanted a cupcake at 9am. Caramel apple tea, for the win.
Lunch:
It had to be mock tuna salad, right?! Also rice crackers. And some other gluten free crackers that I'm not as big of a fan of. And. Apples.
Afternoon snack:
Hummus + Chipolte hot sauce + chips < This is so amazing! We bought these little hummus cups at Costco a few weeks back. Terribly not-efficient, but they were the only kind of plain hummus they had. I am loving dousing them in hot sauce and going to town. So perfect.
Dinner:
Oh. Wait. I actually had a veggie burger and fries from a local place. But, I totally bombed on getting a picture. After dinner I drank some more tea. In the Panda Mug. With the Tea In His Pants infuser. < TWSS.
So! Monday eats! Done! I'll see you guys tomorrow for Thinking Out Loud Thursday 🙂
P.S. –
We should be friends! Find me on Twitter and Facebook
Note – in order to help support the costs of blogging, my site occasionally contains affiliate links. When this happens – everything costs the same for you, but I get a little income as well. Thanks!