Did there used to be another day in the week between Monday and Tuesday night?! Because I'm pretty sure there was. And it's gone now. And suddenly it's Tuesday night and MUST.WRITE.WIAW. And I won't even get started on it being March. Because it was Christmas last week. Right? Alright. Monday Eats.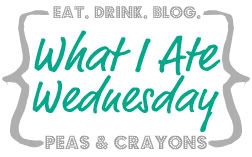 Breakfast:
TheMonthOfMarch I'm working some less-than-normal work hours. Which means awesome workout hours 🙂 I started my morning with a PB&J Smoothie < Peanut butter, soy milk, frozen spinach, frozen berries, flax meal and chia seeds. I think there was supposed to be tofu in there. Not sure I remembered to put it in there…
Workout:
Oh. Since March is going to be all weird and stuff I decided to start a new workout program. I signed up for Daily Burn and am doing #BlackFire. It's amazing. Uhm. But I can't move right now. Ouch.
Pre-Work-Snack:
I wasn't sure what time I'd be getting to eat "lunch" since I was starting work at lunch time, so I ate a quick snack before work. And by quick snack I mean I got really ambitious and decided to make tofu scramble and cheese sauce and then eat it in like 2 minutes because that's all the time I had left. Oy.
Late Lunch:
I ate lunch around 3pm, which was totally find since I had had prework/second breakfast snack at about 1030. Mock tuna salad. Rice Crackers. Apples. You guys totally missed it. Last week I didn't eat mock tuna. I also didn't post WIAW, so I have no proof 😉 < I missed (both) it so dearly I made it this week. (WIAW and Mock Tuna!)
Dinner:
Uhm. Wait. I actually ate Pad Thai, which was leftover from lunch on Sunday. That picture isn't Pad Thai. That is a gluten free brownie (or two) heated with vanilla vegan ice cream. Which is what I filled my bowl with AFTER I scarfed down the Pad Thai 🙂
So those were my Monday eats! I hope you are all doing well this week! 🙂 I'll see you tomorrow for Thinking Out Loud Thursday!
P.S. –
We should be friends! Find me on Twitter and Facebook
Note – in order to help support the costs of blogging, my site occasionally contains affiliate links. When this happens – everything costs the same for you, but I get a little income as well. Thanks!