This week Monday was a bit easier than the last two. Perhaps because I'm learning more and more at work. Perhaps it was just a fluke 🙂 Anyways. Here are Monday eats 🙂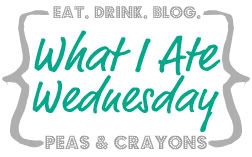 Breakfast:
I am sure the smoothie thing is going to end eventually. But, for now, it isn't even slowing down. PB&J smoothie. Super warm hand knit socks. Because. Wait for it. It snowed Monday.
Lunch:
Sorry. This picture is totally from last week. But…I ate the same thing. This is the third week I've made this Mock Tuna Salad. I just can't get enough of it. It's so fast, easy, and delicious. I the recipe over about three days, which is a great lunch size. The grapes are also perfect with it. Makes it feel like it's maybe not negative degrees outside. Maybe.
Afternoon snack:
This is another recent favorite snack. Udi's gluten free bread with hummus, sriracha and black pepper. Also, apple cinnamon tea. A perfect short break 🙂
Dinner:
Taco soup. < We love taco soup. But…uhm…I actually ate about 3 times as much as what is in this picture. BECAUSE HANNGRY.
Dessert:
Dark chocolate with sea salt and almonds. Love it.
So, there is Monday! I hope you guys are having a great week! I'll catch up with you tomorrow for Thinking Out Loud Thursday! 🙂
P.S. –
We should be friends! Find me on Twitter and Facebook
Note – in order to help support the costs of blogging, my site occasionally contains affiliate links. When this happens – everything costs the same for you, but I get a little income as well. Thanks!