Hey! I made it to week two! 🙂 Let's look at Monday's eats, again!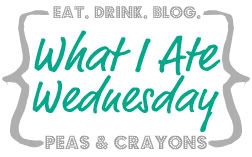 Breakfast:
Salted Caramel Green smoothie (recipe coming soon!). After completing last week wearing flannel shirts every day, this week I have graduated to t-shirts and this amazing sherpa lined hoodie I picked up at Old Navy over the weekend… = love.
Morning Tea –

Peppermint. Mainly because I had this new mug. And I HAD to try it out! At first I was bummed that I couldn't see the Panda face when I held it in my left hand (#LeftHandersUnite) – but then I realized it was actually perfect, because the little ears didn't get in the way when I drank from the back of the mug!
Lunch:
I am quickly learning that Mondays at NewJob = Insane. I am so grateful I had food ready. And that I went downstairs and got it early in the afternoon… Rice crackers, grapes, and mock tuna salad < IN LOVE.
Afternoon Tea:
Wait. That's actually just half of my morning tea, still chilling (literally, quite cold) in the Panda glass. Because someone never got a chance to finish it…
Dinner:
I was all levels of STARVING – So I piled some homemade refried beans with salsa, diaya cheese, tofutti, hot sauce and lettuce (the lettuce was just to cover up the messy food ;)) …add chips. DINNER. DONE.
After dinner I kept wanting something else. Then I got distracted watching YouTube videos…and…it never happened 🙂
I hope everyone is having a great start to your week! I'll catch you tomorrow for Thinking Out Loud Thursday!
P.S. –
We should be friends! Find me on Twitter and Facebook
Note – in order to help support the costs of blogging, my site occasionally contains affiliate links. When this happens – everything costs the same for you, but I get a little income as well. Thanks!