Today's eats are coming from Monday. Ohh Monday. Monday was my first day at my new job. My first day working from home. And, my first day in 7.5 years being the "new girl", instead of the person that everyone came to for answers. Shew. Exhausting.
Luckily I was super duper prepared and had prepped lots and lots of food. That was a good plan. Such a good plan. Let's look at my eats…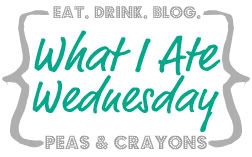 Breakfast:
The smoothie kick continues. Soymilk+water, peanut butter, berries, spinach+kale, chia seeds, flax meal. Delicious. Also. Notice the new work-dress-code?! Flannel shirt, jeans and handknit socks. Loveeeee.
Lunch:
Ate on the fly while working. So thankful for pre-cooking over the weekend. Mexican baked potato soup, grapes, mock tuna salad (<<IT'S AMAZING!!) and rice crackers. It was definitely a great lunch.
Post lunch sit-down-for-a-minute tea:
Caramel Apple Dream is a huge favorite for me. Love. It.
Afternoon Snack:
I was starrrving around 4pm. Thanks stand-up-desk for reminding me of that all day. Hummus and celery. I wanted chips, but I carried the celery upstairs and then ate it…but I wish it had been chips.
Dinner:
Super late. Super starving. Super tired. Learning is hard. Spaghetti sauce (premade over the weekend, too) with quinoa and toast with earth balance and garlic powder.
Shew. That was my first day. Exhausting. Wonderful. Exhausting. 🙂
I'll see you guys tomorrow for Thinking Out Loud Thursday! 🙂
P.S. –
We should be friends! Find me on Twitter and Facebook
Note – in order to help support the costs of blogging, my site occasionally contains affiliate links. When this happens – everything costs the same for you, but I get a little income as well. Thanks!