This week I'm doing a smidge better than last – I have two whole pictures for you 🙂 … Things will slow down eventually, right?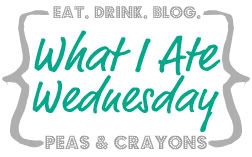 Breakfast:
I'm still on the smoothie kick that I was on last week. Was it just last week? Yeah. I think so. This is a peanut butter and jelly smoothie. Uh. Before I remembered to add the peanut butter. Soy milk, kale/spinach, strawberries, cherries, blueberries, flax meal, chia seeds and peanut butter. I really enjoy the flax meal added to this smoothie – it really helps with the "pb&j" effect.
Lunch: Was a quick salad that had terribly spiky lettuce. For real. Who likes eating spiky lettuce?
Dinner:
Well, that picture is post dinner. I had some veggie chili. And…yes…my bowl is perched on top of the banister of my stairs. Because I needed to remember to take it downstairs to the kitchen, and didn't want a curious kitty licking it.
So those were a very hectic Monday eats. 🙂 I'll see you tomorrow for Thinking Out Loud Thursday!
P.S. –
We should be friends! Find me on Twitter and Facebook
Note – in order to help support the costs of blogging, my site occasionally contains affiliate links. When this happens – everything costs the same for you, but I get a little income as well. Thanks!