I'm having some "The Holidays are Over and Now I Must Work 5 Days A week Again" blues. Let's talk about food. Food always makes it better!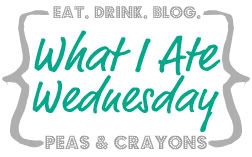 Breakfast –
Stealing an old picture for this one. Sunday's breakfast was crackers and peanut butter. And tea. Because there's always Tea.
Rainy run:
I am envious of this picture as I sit here two days later in sub-zero temperatures. Ohhh weather.
Lunch:
I shouldn't have even looked at this picture. I want to eat this RIGHT NOW. After my run I was super-duper hungry. I stopped at a local restaurant that serves really awesome vegan meals. Nathan doesn't love eating there, so I rarely go – but I figured it was nice to splurge for myself 🙂 – a vegan tempeh casserole and THE BEST SWEET POTATO FRIES EVER. Dang it. Now I want this, so badly.
Dinner – Taco soup. But made out of pantry staples, so I switched it up a bit. But it was still delicious. Oh. And I failed to take a picture.
Post dinner tea:
Delicious 🙂
I hope everyone is having a great week! I'll see you tomorrow for Thinking Out Loud Thursday…and next week for some more Instant Pot tutorials!
P.S. –
We should be friends! Find me on Twitter and Facebook
Note – in order to help support the costs of blogging, my site occasionally contains affiliate links. When this happens – everything costs the same for you, but I get a little income as well. Thanks!