Guys. I'm struggling this week. I can't seem to get in a groove. I just looked up and it's the end of the day on Tuesday, and I haven't taken a single food picture since last week. Yesterday I didn't eat lunch until after 2pm. #ThereAreNotEnoughHoursInTheDay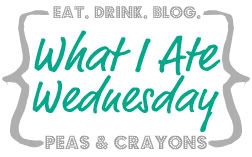 So…since I'm failing as a food photographer (eek, if you could even call my Wednesday food pictures "photography"), I thought I would, instead, write to you about my favorite meal – BREAKFAST.
If you didn't catch it, I did a big round up for Christmas Breakfast Ideas on the blog yesterday. Because everyone needs special Christmas food, right?! 🙂
You guys know I'm no stranger to busting out a huge, multiple course breakfast:
Nutcracker tea, Tofu scramble, vegan cheese sauce, waffles and yogurt with strawberries
But most mornings this SERIOUSLY doesn't happen. I usually hit up something little, filling, delicious, and…of course…FAST. Here are some of my favorites!
Rice crackers and peanut butter < This is my always-in-the-pantry fall back breakfast!
Waffles and peanut butter or with yogurt and cinnamon < sometimes I make my own waffles using this recipe: waffles, but when I can find them, I also buy these waffles in huge batches so that I can have a freezer stash
Gluten free toast (or Udi's toast or Udi's bagels) and peanut butter…or toast with hummus and tomatoes, or yogurt cheese
Soy Yogurt with fruit and/or nuts
Leftovers. Of anything. Especially Mexican Potato Soup. I worked rotating shift work for 4 years / am married to a guy who worked third shift for 9 years. Breakfast has often, for us, been any type of food. Rice and beans? Yes. Burritos? Yes. Soup. Yes. Yes. Yes.
And…of course…there is always tea. 🙂
Those are some of my breakfasts that are on the regular rotation. What is on yours? Did I miss any favorites?
P.S. –
We should be friends! Find me on Twitter and Facebook
Note – in order to help support the costs of blogging, my site occasionally contains affiliate links. When this happens – everything costs the same for you, but I get a little income as well. Thanks!