I had full intentions of taking some "Thanksgiving Day" food pictures for you. But..that didn't happen. Best laid plans, right? That's what WIAW posts all seem to be .."best laid plans". The weekend after Thanksgiving I spent mainly sleeping. So my eating habits were a bit off. But – then – work had to happen again. So, eating has returned to normal 🙂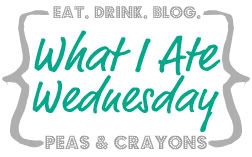 Breakfast –
Waffle with peanut butter. And..some airborne on the side. I was trying to kick a cold. It (as of today) hasn't been kicked yet. Oy.
Tea:
I knew I'd need some tea throughout the day for my throat, but I didn't want to go with anything spicy. Caramel Apple Dream for the win.
Lunch:
Geez. I am SUCH a photo recycle-r. Spinach and mushroom ragu lasagna. A huge huge huge plate of it. Lasagna wards off colds, right?!
Dinner:
Okay. So yes. There was a whole pan of lasagna in the fridge. But. 3 dollar night at Menchie's. And…you can't have Menchie's without Chipolte. I had a veggie bowl and chips. Then..yep..some Menchie's. I am so so so so so thankful that Menchie's carries dairy free ice cream! Chipolte+Minchie's=my loves.
I have a total confession. All of the pictures are recycled. Oy. Perhaps the cold is getting to my head. More unique ideas coming, I promise. See you guys tomorrow!
P.S. –
We should be friends! Find me on Twitter and Facebook
Note – in order to help support the costs of blogging, my site occasionally contains affiliate links. When this happens – everything costs the same for you, but I get a little income as well. Thanks!