This week's eats actually occurred this week. On Monday. During an insane travel day. Flying makes me super – not – hungry. And then…I get off the plane at my final destination and realize I am starving. That's all well and good, unless your final stop is at 3am. …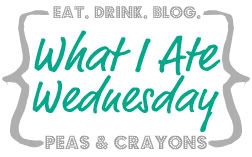 Early Monday morning (BUT not as early as our flight TO California, which we departed for at 4am)
My go – to hotel breakfast – rice crackers and Justin's peanut butter packets. So great to travel with.
At-the-airport-early-because-the-shuttle-guy-told-us-we-needed-to-leave-way-way-before-we-really-did:
Naked Berry Veggies (I loveeeers this one but seem to only be able to find it some of the time) and some hummus with soggy vegetables that was just DIVINE… < Not.
On-the-plane-because-they-felt-sorry-for-us-that-we'd-been-sitting-ONTHEPLANE-waiting-to-take-off-for-two-hours
OJ. < Because I always crave it when I'm flying?! And about 10 packets of peanuts. We're delayed. You're probably going to be stuck here all night. Here, maybe twenty lightly salted peanuts will make you feel better. Uhm. It didn't, but I do love peanuts. 🙂 Also. Those socks got the snot knit out of them. I went from about what you see above to past the heels on my first flight. Oh. Yeah. That was a four hour flight with a 2 hour let's sit on the runway and taxi and return to the gate and taxi and return to the gate and…yeaaaah.
I think I also had a protein bar somewhere in there. It's really a blur right now. When we FINALLY got off the LAX flight at our connecting city we were certain we had missed our plane. We had been told there were no other flights until Tuesday afternoon. (This was Monday about 9pm). Then…we started walking down the terminal and saw our lone flight home …still waiting for the pilot…who was flying our flight that we had just gotten off of. #SavedByTheTravelKings
We finally scooted in to home around 245am. At which point I was starving. But way too tired to eat anything. Bright and chipper at work this morning, I promise.
Also, this little guy is very please to see us!
According to the Vet he was kind and pleasant and didn't bite anyone. Pretty sure they're sleep deprived too, because that is NOT our cat!
I'll see you guys tomorrow for a super short drop in to Thinking Out Loud Thursday…and then I'll be back next week with some actual coherent thoughts!
I hope all my U.S. friends have a LOVELY Thanksgiving! If you still don't know what you're making (EEK!) you can click here for my vegan/gluten free recipe round up and here for my menu this year!
Hugs!
P.S. –
We should be friends! Find me on Twitter and Facebook
Note – in order to help support the costs of blogging, my site occasionally contains affiliate links. When this happens – everything costs the same for you, but I get a little income as well. Thanks!