Last week (when I took these food-snaps) I was not feeling super duper awesome. I think I'm back on the upswing now, though! Let's check out the food!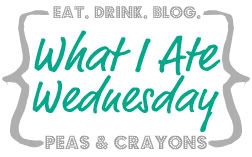 Pre-Workout-Snack:
(Recycled Photo from last week!) These have really been working for me as a pre workout snack. I think I'll stick to it 🙂
Breakfast:
Confession: Between vlogging this month, and trying to keep the regular blog posts up I have totally failed at taking food pictures. This is actually a screen shot during my Vlog for this morning, where I was showing my breakfast. 🙂 Gluten free waffle with peanut butter, soy yogurt, cinnamon and apples. Very delicious!
Morning Tea:
(Recycled picture). My Mum bought me an awesome Teavana tea tumbler last week. It keeps tea piping hot for 8 – 10 hours. So – I've fallen in the habit of drinking my tea throughout the entire day. Like. Yeah. ALL DAY. Uhm. I finished this before bed. 🙂
Lunch:
A vegetable-y mexican-y soup that I made over the weekend in the Instant Pot. Very good. 🙂
Dinner:
Yeah – Totally stole this picture from my recipe page. haha! I do love this picture, though! Creamy Mushroom Risotto, also made in the instant pot. 5 minute dinner is a winner < bahaha
Alright folks…I'll see you tomorrow for Thinking Out Loud Thursday!
P.S. –
We should be friends! Find me on Twitter and Facebook
Note – in order to help support the costs of blogging, my site occasionally contains affiliate links. When this happens – everything costs the same for you, but I get a little income as well. Thanks!