This week my food was dictated by quick and easy choices.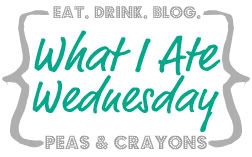 Pre-Workout Grab and Go snack:
Now that I've started my pre-morning-routine garage workouts, I have to have something in my stomach before I start dancing around. I was doing peanut butter earlier in the week, but it was just too sticky to get down easily. These peanuts have been an excellent sub 🙂
Breakfast:
If you've been around here long enough you know that a "typical" breakfast is so not my thing. This is a peanut-sauce pasta left over from the night before.
Morning Tea:
My not – super – excited – about – morning stomach requested peppermint tea. My brain requested some caffeine – and this caramel chia is to die for. : )
Lunch: Didn't get a picture. WaaampWaaamp. It was a kale salad and a tomato lentil soup. Sometimes the cafeteria at work actually steps up their game. Way to Go.
Dinner:
We were out and about already, and eating out just seemed easiest. This was an awesome new place that opened up that has gluten free crusts and vegan cheeses. Go new places 🙂
So, that was our week!! I hope everyone is doing swell and I'll see you tomorrow for Thinking Out Loud Thrusday!
P.S. –
We should be friends! Find me on Twitter and Facebook
Note – in order to help support the costs of blogging, my site occasionally contains affiliate links. When this happens – everything costs the same for you, but I get a little income as well. Thanks!