Last week I realized I was eating the exact same things as the week before. That tends to lead to some rather boring blog posts. So…I decided to switch things up. Today we will talk about TEA. 🙂 …or a "What I drank Wednesday" 🙂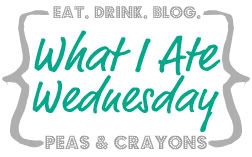 If you've been following my Blog or Vlogs for a while, it's really no secret that I love tea. I've always preferred tea over coffee. Don't get me wrong – coffee is awesome too. I especially love the smell of coffee. But…hot tea wins my heart.
I usually drink decaf tea – but lately I have reached for caffeine some mornings. You'll see a mixture of both this week…so let's look at a Week in Tea 🙂
I found a new tea store in town over the weekend and picked up some loose leaf teas. This tea definitely caught my eye. It was delicious, but a bit strong on the black tea taste. I need to rebrew it and see if it still tastes the same.
Another Tea Store find – this is so so so delicious.
Out of the three teas I found at the new tea store, this one has to take the cake. I actually drank it a few other mornings this week, too. DELICIOUS.
Cinnamon Apple Spice is a true favorite for me. Loveeeee it. Plus, cinnamon does awesome things to my upset stomach!
Speaking of stomach soothing tea…peppermint tea has to take the cake. It will calm all of my sour stomachs. I apparently forgot to take a picture of it this week, so here is a random picture of me drinking tea instead. Seems appropriate 😉
Nutcracker sweet is another caffeinated tea, but it is so so delicious. The smell of it actually makes me smile. Vanilla. Christmas. Love.
I adore Chai tea. And, I really adore this Chai because it's decaf!! 🙂
I bought this tea as an impulse buy at the grocery store a few weeks back. I didn't like it the first time I tried it, but have sense fell in love with it as a late-night pre-bed tea. It doesn't really taste like caramel – but it is delicious.
THIS TEA IS SO SO SO good!!! For every ounce that the tea above did not taste like caramel, this one TOTALLY DOES. Oh wow. It is so amazing. I LOVE IT.
So – those are the teas I drank this week 🙂 Was this a fun change from the usual WIAW? Do you guys like to drink coffee? Tea? Something else entirely?! 🙂 See you tomorrow for Thinking Out Loud Thursday!!
P.S. –
We should be friends! Find me on Twitter and Facebook
Note – in order to help support the costs of blogging, my site occasionally contains affiliate links. When this happens – everything costs the same for you, but I get a little income as well. Thanks!