Heeeeeeeeey. Fancy intros aside. Let's talk about food.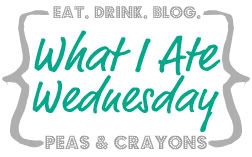 Breakfast:
Chai Tea, with a side of really white legs. And…apparently…no shoes?! That's strange. I always put on my shoes before coming downstairs? Anyways…Uhm. I also had Baked Potato Soup. < Guys. I can't stop eating it. I've had it every morning for 3 weeks now. There's just something magical and wonderful about soup for breakfast. Plus, it mega fills me up. I decided to spare you a picture this week. Because…It looks the same.
Random Morning Snack:
I saw these in a candy dish and grabbed a couple. Butterscotch is just so so yummy. Am I think only one that thinks of the parent trap movie when I see these? ..Please tell me someone gets that.
Lunch:
Such a random mish-mash of STUFF. Leftover Diaya pizza (garlic and mushroom), hummus, and jalapeno chips < I don't even like the jalapeno ones. But it's all that was left other than olive. And that's sooo not happening.
Dinner:
Can we take just a second to silently celebrate this pizza?! Orr…you can celebrate out loud, if you wish. That's why I did. While I ate the ENTIRE thing. Gluten free crust, garlic and olive oil, tomato sauce, parsley, coconut bacon, nutritional yeast, apple slices, onions and pecans. Oh geez. IT WAS SOO AMAZING. I was so full after eating it that I turned down ICE CREAM. < SERIOUSLY?! Geez. This pizza. 🙂
Okay. Those were my eats. And…dang it. Now I want another one of those pizzas……….
Anywho. See you guys tomorrow for Thinking Out Loud Thursday!
P.S. –
We should be friends! Find me on Twitter and Facebook
Note – in order to help support the costs of blogging, my site occasionally contains affiliate links. When this happens – everything costs the same for you, but I get a little income as well. Thanks!