[Uhm. Uhm. Uhm. Guys. It's OCTOBER. Whoaaaaa….how did that happen?!!] Also [VlogTober]. Also. This food wasn't eaten in October. It was eaten in September. Longgg agooo September. 🙂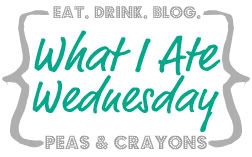 Last week the weather was …erm… a tad cold! We apparently skipped right over Fall and dove into early Winter! I can't complain, though…some 40's and 50's felt amazing.
Because of the colder weather by brain went from "It's slightly irrational, but maybe can we please eat some cold weather food" to "oh..yeah..feel the nip in the air?! It's perfectly acceptable now". So…the food stayed the same, but I just felt justified in eating it?! 🙂
Breakfast –
Yeah. WELL. It seems it's acceptable to make people fast for blood work < Really?! JK.NotReally. 🙂 I had to have my yearly fasting blood draw last week, which meant I had to wait a whole extra hour before I could eat breakfast. This, essentially, translated to me being incredibly hungry, even after I'd eaten the same amount (plus..erm..some) than I normally would have. BUT THEY TOLD ME I COULDN'T EAT UNTIL A WHOLE HOUR LATER THAN USUAL. Ohhhh brain. 🙂 Once I was FINALLY [<STARRRRHVING] able to eat I had hashbrowns, baked potato soup and tea. Because I have been loving tea more than ever lately. Oh. And it all came with a side of a flu shot. < Get your flu shots, people. 🙂
Lunch:
#WhyDoIAlwaysGetSoExcitedToEatThatIDon'tTakeAPicture?! It was stewed tomatoes, rice, pintos and small potatoes. It wasn't even that exciting. I just…yeah…food 🙂
Dinner:
I know it's not super duper pretty but it was so delicious. I was feeling a bit sniffly when I got home, and I wanted veggie soup…but I wanted a spicy broth to clear my sinuses. This broth was ammmmmazzzing. I ended up eating the veggies and cellophane noodles with my spoon and then turning up the bowl and drinking the broth. For the broth I smushed (< real word, I swear) garlic, hot peppers, miso and gluten free soy sauce together…then I stirred it into veggie broth with a bit of dry white wine…then I pressure cooked everything and threw in some tofu. I added the cellophane noodles to the bowl and scooped everything on top. Deliciousssss. < Should I make a real recipe?! I think I'm certainly going to make it again!
After Dinner TV time –
This tea JUMPED into my cart at the store. Seriously! I wouldn't have picked it out myself because I know I have way too many teas 😉 …It was a great tea..but did not really taste like caramel. I certainly like the Caramel Apple tea I mentioned last week better, as far as caramel flavoring goes.
And…For all of you who need reassurance…Indy is still doing wonderfully. 🙂 He decided last week that the CSA basket was his. Pretty sure he hates me for returning it 🙂
How is your weather? Your eats?! I'll see you guys tomorrow for Thinking Out Loud Thursday! 🙂
P.S. –
We should be friends! Find me on Twitter and Facebook
Note – in order to help support the costs of blogging, my site occasionally contains affiliate links. When this happens – everything costs the same for you, but I get a little income as well. Thanks!