We're doing Monday eats again this week. Because maybe it's easier to remember to take pictures if I get it out of the way early in the week?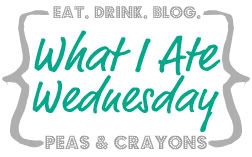 Breakfast:
Uhm. I may have eaten Mexican Baked Potato Soup for breakfast. #ButILikeSoupForBreakfast. Also. Totally addicted to coconut bacon at the moment. I also drank some tea out of the tea tower that Fe gifted me last week. This morning I had "Jazzed" < Delicious.
Walk to Work:
After taking a walk to work hiatus last week, it was great to get back in to it.
Lunch: Lunch is where I stink the most at remembering to take pictures. I just get SO EXCITED about eating. 🙂 I had butternut squash soup + a rice and grain blend. It was delicious.
Pre-Walk-Home-Snack:
The best snack ever.
Dinner: Was the same as breakfast. Same soup. Different bowl. Deliciousness. I did, at this point, run out of bowls, though. Oh Soup. 🙂
After Dinner Snack:
A tea from the haul I bought last week. Oh. And I munched on more coconut bacon. Because…seriously. It's amazing.
Soo…That was my day. Except for the part where we spent the night at the emergency vet with the cat. Oye. :/
I'll see you guys tomorrow for Thinking Out Loud Thursday! 🙂
P.S. –
We should be friends! Find me on Twitter and Facebook
Note – in order to help support the costs of blogging, my site occasionally contains affiliate links. When this happens – everything costs the same for you, but I get a little income as well. Thanks!