This week I decided to share Monday eats. I usually don't have my act together enough to actually remember to take pictures on a Monday, but this time..it's happening. I didn't want Monday to feel left out 🙂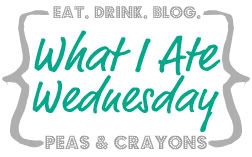 Breakfast –
Miso soup with green onions and spinach and soy yogurt with diced fruit. My Mum and I went out for Sushi Sunday night and I got miso soup. I adore miso soup. I have no clue why I don't eat it more. Monday morning I still wanted Miso soup…and decided to see if that was a normal thing to eat for breakfast. (not that I cared if it wasn't…) So I googled "Miso Soup for Breakfast" – and it turns out it's actually a very normal thing in most other countries. So, Miso Soup it was. Super simple fast to make. Super delicious.
Pre Lunch Snack?
Yeah. Pre lunch snacks don't normally happen around here. But I was so so so hungry I couldn't concentrate. Apparently the Miso soup wasn't enough to fill me up 🙂 … (The next day I added some toast and peanut butter to the breakfast above and it was perfect-fill-me-up-until-lunch)
Lunch:
You'll have to forgive my lack of an actual food picture. I was hungry. I can't be held accountable for my actions. 🙂 I had a few pieces of some Daiya pizza I had made over the weekend. It was delicious. I have been very impressed with their pizzas. I never realized they were gluten free until a few weeks back. Excellent job, Daiya. I also had some pinto beans with onions and some fruit. It was random, but it worked. 🙂
End of work day snack:
I saw this banana and it just looked so lonely. My solution? Eat it.
Dinner:
Sometimes I get so excited about dinner I forget to take a picture. I ordered take out from my favorite place in town. Nathan doesn't love to eat there, and he'd already had dinner – so it was a perfect opportunity for me to get to get some yummies. I had sweet potato fries and a "bowl" with rice and beans and tons of grilled veggies and a vegan red mayo. Delicious.
Dessert:
After dinner we caught up on some Daily Show episodes we'd missed, and I enjoyed some Dark Chocolate with Sea Salt and Almond with some Sugar Plum tea.
How do you remember to take your food pictures throughout the day? I obviously need help 🙂 I'll see you guys tomorrow for Thinking Out Loud Thursday!
P.S. –
We should be friends! Find me on Twitter and Facebook
Note – in order to help support the costs of blogging, my site occasionally contains affiliate links. When this happens – everything costs the same for you, but I get a little income as well. Thanks!