It is September. In case you didn't know this, my brain will be happy to shout it from the rooftops. Or..at least..my food palate will. Except, I'm afraid it actually thinks it's late October. Comfort fall foods all around…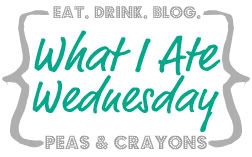 We are working on training Indy to not beg and cry for his breakfast in the morning. Let's just say this is not going super duper. Oh. Btw. He's not starving or anything. He's perfectly totally fine. He just thinks he may starve to death in the 5 minutes before we make it downstairs. To facilitate this "training" we've only been going down AFTER his food alarm sounds. Wednesday morning I had a few minutes to spare before going downstairs, so I picked up my knitting. That's the perfect start to a day. 🙂 (The knitting, not the crying cat).
Breakfast (food wise) was peanut butter toast with peppermint tea.
Also. The Cat wasn't pleased when I decided to RUN OUTSIDE REALLY QUICKLY and take a picture of the sunrise when we went down to do breakfast. Uhm. Opps. That may have regressed the Alarm-Training a bit 🙂
Lunch:
Quick Nacho Cheese Sauce with black beans. And chips. And…delicious.
Afternoon Snack:
This was the first time I had tried this ALT LaraBar flavor. At first it tasted a bit dry, but the flavor was awesome. After I ate it I noticed it was 2 months expired. Opps. Perhaps that's why it tasted dry? I can say…even 2 months expired, it was delicious 🙂
Dinner –
I was bound and determined to have chili for dinner. Eveeeen when I had to totally make up a new recipe because I didn't want to go to the store. It was delightful. 🙂
Dessert:
Costco dark chocolate with almonds and sea salt candy + a rice roller. Sweet tooth = satisfied.
…Alrighty. Those were eats last week!! Is your brain on Fall yet? Oh mine so so is! I'll see you guys tomorrow for Thinking Out Loud Thursday!
P.S. –
We should be friends! Find me on Twitter and Facebook
Note – in order to help support the costs of blogging, my site occasionally contains affiliate links. When this happens – everything costs the same for you, but I get a little income as well. Thanks!