This is What I Ate Last Tuesday When I Was Really Tired (RE: TRIP) and Hungry (RE: Ate Junk All Weekend) and it was Rainy and Cold (RE: Is it Winter?!)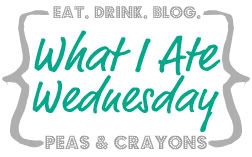 I've been slowly turning my alarm back 5 – 10 minutes each week to get better at Mornings. For some reason this is meaning I need to eat 5 – 10 extra foods each morning. Geez.
First Breakfast:
Tofu Scramble. Yogurt Cheese. Some Udi's toast.
While eating breakfast I looked up and noticed that this is where my husband decided to hang the cat's collar while it dried.
Please tell me this is normal.
Walk To Work. In the Rain. Because sometimes you just need to do alone-in-the-rain time.
2nd Breakfast:
A smoothie. Or. Maybe we should have called this meal dessert. — Frozen Banana, Rice Milk, Peanut Butter, Cocoa Powder, Some Coconut Sugar, and some coffee beans. It was delicious. And I don't really care that it was dessert. 🙂 …I also had yogurt and hash browns during second breakfast. But you see pictures of them every week. 🙂
Lunch:
After all of that planning for breakfast, lunch was this. From the freezer. And french fries. Because sometimes that happens.
Because.I.Am.Addicted.To.Sugar:
Only, I didn't eat the cherry ones. Because fake cherry is gross. It was just the only one left to take a picture of. <shame face>
Dinner:
Me being out of town at the end of the week before last left us with a large abundance of vegetables from our CSA at the beginning of last week. They went to good use… we steamed some green beans with garlic in the Instant Pot, and then made a "summer vegetable Risotto", which was delightful. Oh, and toast. Because toast is always awesome.
So, those were my eats last Tuesday. You can click here to see other Wednesday eats and I'll see you back tomorrow for Thinking Out Loud Thursday.
P.S. –
We should be friends! Find me on Twitter and Facebook
Note – in order to help support the costs of blogging, my site occasionally contains affiliate links. When this happens – everything costs the same for you, but I get a little income as well. Thanks!