This week your eats are brought to you on behalf of last Monday. Because. Well. That's when taking pictures of my food happened. 🙂 Also. My brain thinks it's fall. And only wants fall-like-spices. But…I held back. And this is what I ended up with…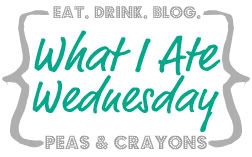 Really early in the morning because apparently: being-tired-on-a-Monday-is-totally-awesome…Pre-Walk-Breakfast:
Gluten free toast with tofu scramble and (soy) yogurt cheese. Oh, and tea. Oh man. Tofu scramble + yogurt cheese may be my new favorite. It may have made waking up so early worth it. Maybe…
Walk to work:
It was a beautiful, although incredibly humid, walk. Also. Eating a huge breakfast (well, bigger than the usual rice crackers and peanut butter) makes morning commutes walks, NOT runs!
Breakfast Number 2 – Because – I – Like – Food:
Soy yogurt with cinnamon and coconut sugar + potato pancakes < Because, awesome.
Lunch – Leftovers – Are- Amazing:
This mess-oh-goodness is rice, beans and some grilled veggies. And some mango lime salsa. And I didn't make it. But it was delicious.
Pre-Dinner-Snack-Because-Dinner-Is-Taking-Forever-To-Bake:
Black pepper and sea salt potato chips < Addicted. Plus cinnamon apple cider. < Which reminds me of fall. Also. See that note that says "Lunch"? It's my last ditch effort to try to get myself to not forget my lunch. It helps 99% of the time. 🙂
Dinner – Because – I – Just – Can't – Stop – Making – This:
Spinach and Mushroom Ragu Lasagna. Oh It Is Soo Good.
Dessert – Because – Sometimes – You – Need – Chocolate – At – 9:30 10:30pm:
Minimalist Baker's black bean brownies. I've made some terrible black bean brownies in my past. These, though…geez they were the complete opposite of terrible. They were amazing sweet fudgy goodness. Delicious. And totally worth staying up late to wait for them to bake. 🙂
So those were my trying-to-resist-the-urge-to-COOKALLTHINGSFALL meals. I hope you're having a great week! You can click here to see other Wednesday eats and I'll be back tomorrow with some Thinking Out Loud Thursday thoughts! 🙂
P.S. –
We should be friends! Find me on Twitter and Facebook
Note – in order to help support the costs of blogging, my site occasionally contains affiliate links. When this happens – everything costs the same for you, but I get a little income as well. Thanks!