This week I will scurry quickly before I head out of town to tell you about my eats from last Wednesday. The only trend? Stinking at remembering to snap pictures! 🙂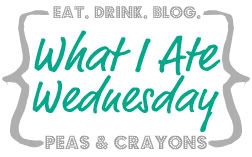 Early – Morning – Prior – To – An – Early – Run – To – Work:
Peanut Butter on Rice Crackers
Early Run to Work.
When – I – Finally – Got – Out – Of – My – Really – Early – Meeting – And – Ate – Breakfast – Part – 2:
Soy Yogurt. Only…it didn't have pears in it, as pictured. It had peach jam and cinnamon. < I told you I stunk at getting pictures this week!
Lunch – Oh – Geez – I – Was – So – Excited – That – I – Actually – Remembered – To – Take – A – Picture
Salsa and chips and OH MY GOODNESS the biggest Kale Salad ever. Plus some strawberries. Delish.
Post – Work – Needing – Motivation – For – Packing:
Toast with CSA apple butter on it. Only, that up there…that's actually toast with earth balance and cinnamon. Sorry guys. Seriously.
Packing…
Food packed: Alt Lara bars, rice crackers, small peanut butter squeeze packs, 1 block of shelf stable tofu and spices to make tofu scramble. 🙂
Dinner:
Japanese-Place-Vegetable-Plate with Nathan's Uncle!
We really wanted dessert afterwards…but we were so so full. …so that was all we ate! I'll be heading out of town shortly after you read this…so I may be slow-to-reply-or-read this week..but click here to read other Wednesday eats and we'll catch back up tomorrow with Thinking Out Loud Thursday!
P.S. –
We should be friends! Find me on Twitter and Facebook
Note – in order to help support the costs of blogging, my site occasionally contains affiliate links. When this happens – everything costs the same for you, but I get a little income as well. Thanks!