Last weeks Wednesday eats are brought to you through special funding from the ChelseaEatsLotsOfLassagna Fund. You're welcome.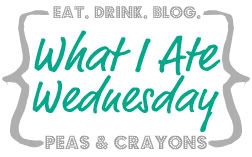 Sometime-Early-But-A-Little-Later-Than-Usual-Because-I-Overslept – Breakfast
Raspberry – Vanilla Tea. < I have recently re-fallen in love with Tea. I actually have an addiction to buying tea. But drinking it comes and goes. I've been reading a book based in England, though, and geez they drink a lot of tea. 🙂 I've started making it at work in the mornings with 1/2 a jar of hot water and 1/2 a jar of room temperature water so that I can drink it right away instead of waiting for it to cool. I also ate the typical rice-crackers-with-peanut-butter and soy-yogurt-with-cinnamon, but you guys may be sick of looking at pictures of those. 🙂
Later-Than-I-Liked-Because-of-a-Meeting-So-I-Ate-It-Before-Photographing – Lunch
…Or, those are the empty lunch containers. What was in it? Spinach and Mushroom Ragu Lasagna + Salad. It really looked something more like this…minus…the casserole dish and all.
Afternoon-Bribe-To-Run-A-Report-I-Didn't-Feel-Like-Doing – Snack
Yeah. That happened. I went and bought it and put it beside my computer monitor and only allowed myself to eat it once I finished the report. 🙂
Post-Work-You-Ate-Too-Much-Sugar-And-Need-A-Pre-Dinner-Snack – Snack Part 2
Toast, with peanut butter. But that picture doesn't have peanut butter. Because I ate the toast before I took a picture. 🙂
Dinner-Couldn't-Come-Soon-Enough-Because-Guess-What-I-Get-To-Eat-More-Lasagna – Dinner
Sorry for the ugliness of this picture. This dinner was actually delicious. And..a repeat of lunch. 🙂 Sorry.NotSorry. Salad, Lasagna, bread with earth balance and garlic powder.
Post-Dinner- (actually right now while writing this)- Dessert
Chocolate Chips and Sugar Plum (yes, I know it's Christmas) tea. Only…
I got really excited to take a picture of the tea for you guys and actually forgot to put the tea bag in. Didn't realize it until I'd waited a while for it to steep. You know what you get when you forget to add a tea bag to hot water? You get hot water. That's it. Bahhaha. I reheated the water and added a tea bag. < And got more chocolate chips. And all was saved.
So…Those were my Last Wednesday eats. I hope you're having a great week, and I'll see you tomorrow for Thinking Out Loud Thursday! If you want to see other Wednesday eats, you can click here.
P.S. –
We should be friends! Find me on Twitter and Facebook
Note – in order to help support the costs of blogging, my site occasionally contains affiliate links. When this happens – everything costs the same for you, but I get a little income as well. Thanks!