Last week's eats were not super typical because…Days Off. Spending the entire day at home reminds me how much more fun eating is when I don't have to pick all the food out the night before and/or the morning of and place it into a million tupperware containers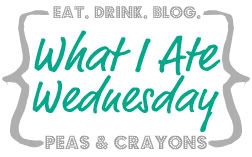 9am-ish- < Because. Day Off. …Breakfast
Seriously?! If I ate breakfast like this every day I'd be so so happy. I LOVE BREAKFAST. Tofu scramble with a new cheese sauce that I'm still working on, cornmeal gluten free waffles, (with, of course, Maple Syrup) and soy yogurt with strawberry jam stirred in. Oh – and Kona Coffee. I never drink coffee (because Me + Caffeine = not awesome) but it was so delicious. ALL OF IT was SO delicious. Geez. Food. You are so amazing.
1pm – ish < Because, who says I have to eat at a normal schedule?
I was still SO incredibly full from that huge-humongous breakfast. So I ate cheese sauce (working on recipe) and chips. < Yep, that happened. Every time I make this cheese sauce I eat it and eat it and eat it and EAT IT. I JUST CAN'T STOP.
6pm-ish < Because cooking a real dinner is actually fun when you've been home all day, mainly knitting < Dinner time
I know this dinner is beautiful, but it TASTED beautiful. Tofu, baked, and smothered with BBQ sauce. < FINALLY figured out how to make tasty tofu! Grilled onions, and not-healthy-vegan-mac and cheese. I will confess – all of those ended up being mixed together to be eaten. Is it strange that I love bbq sauce in my mac and cheese? Hope not 🙂
I think I ate dessert this night? But I can't remember. My guess would be an ice cream bar. < Because that seems to happen every single day.
I hope everyone is starting out JULY < WHAAAAT in a super dandy fashion, and I'll see you tomorrow for Thinking Out Loud Thursday! You can click here to see other Wednesday eats!
P.S. –
We should be friends! Find me on Twitter and Facebook
Note – in order to help support the costs of blogging, my site occasionally contains affiliate links. When this happens – everything costs the same for you, but I get a little income as well. Thanks!