Eats last Wednesday were fairly normal. My remembering-to-take-pictures skills, however, were lacking. 🙂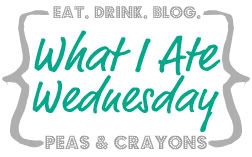 630am – Breakfast, part 1
The usual – rice crackers with peanut butter. Although they weren't this pretty. They were wrapped in a cloth napkin, and eaten while getting ready. 🙂
Walk to work:
8-something-ish – Breakfast, part two:
Homemade yogurt – using the new method, with grain free granola and potato pancakes (< which are amazing)
12pm – ish – Lunch
I failed so miserably at getting a picture of my lunch. I ate crockpot refried beans, brown rice, and that cheese sauce up there that is just amazing. Oh. And steamed kale.
530pm – Dinner
My afternoon turned super busy and I ended up with no afternoon snack. 🙁 … as a result, I heated up these leftovers from the Chinese place as soon as I got home. Broccoli with ginger garlic sauce, brown rice. I ended up finishing off the above mentioned cheese sauce as well. 🙂
After Dinner – Dessert
So delicious vanilla ice cream with chocolate shell bar. But not while reading foster care certifcation papers as pictured above. While watching TV. 🙂
So – there are my eats. Does anyone else struggle with remember to snap pictures on your WIAW day? I hope everyone is doing great! You can click here for other Wednesday eats and I'll see you tomorrow for Thinking Out Loud Thursday!
P.S. –
We should be friends! Find me on Twitter and Facebook
Note – in order to help support the costs of blogging, my site occasionally contains affiliate links. When this happens – everything costs the same for you, but I get a little income as well. Thanks!