I usually take my What I Ate Wednesday food pictures on the Wednesday before. It was a total fail last Wednesday – so these are Thursday eats instead of Wednesday eats 🙂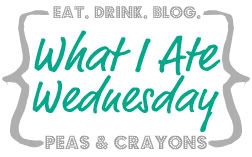 There was no walk-to-work last Thursday. Instead, there were thunderstorms. Thunderstorms = driving to work.
8am – ish – Breakfast:
Peanut butter and rice crackers. But they weren't this pretty. They were in a tupperware container and squished into a crumbly mess. But still delicious.
Grain free granola and homemade (vegan) soymilk yogurt with strawberries. I made this yogurt using my new process. So awesome 🙂 … I also made the granola. I wanted to make granola that was all clumpy and stuck together in big pieces. Since I can't eat gluten or oats (yeah..even the gluten free oats) – I made this with some nuts and quinoa and cinnamon and peanut butter and maple syrup and … so much yummy stuff. I think I finally figured out how to make the granola stick into the big chunks. IT IS SO DELICIOUS. … but next time I will not start making it at 930pm. < Opps. 🙂
1pm-ish – Late lunch
Tomato, cucumber, kale, green onion and chipolte mayo on gluten free bread – which was wonderful, plus a kale salad…which was not – spectacular because I had made it the day before and it was a bit…bland. Plus – it was so late I think I was overly hungry. Which makes me not hungry. Is that normal?
5pm – Post Work Snack
Easy vegan cheese dip with black beans (working on the recipe) and blue corn chips. We had a class to take from 6 – 8pm so I grabbed this large snack to get me through. This cheese dip is my favorite.
9pm-ish – Late Dinner
(old picture..but same food) – Chipolte Veggie bowl with: brown rice, black beans, fajita veggies, mild salsa, corn salsa, lettuce and guacamole. Oh and chips. Of course. 🙂 < We have seriously eaten so much Chipolte since it opened here in April. Order from the phone app is the coolest thing eeeever. Plus, on Thursday nights after class it's the perfect take home and debrief dinner.
So – that was my Thursday last week. Not overly exciting. But yummy eats. 🙂 I hope everyone is having a great week! You can click here to see other Wednesday eats, and I'll see you tomorrow for Thinking Out Loud Thursday!
P.S. –
We should be friends! Find me on Twitter and Facebook
Note – in order to help support the costs of blogging, my site occasionally contains affiliate links. When this happens – everything costs the same for you, but I get a little income as well. Thanks!