HERE are last Wednesday's eats. Last week – being a 4 day week – seemed to feel like 12 days smashed into 4. It seemed INCREDIBLY busy. I felt 10 steps behind every second. My eats were fairly normal. I guess. 🙂 Oh. And – June?! Where did you come from?!!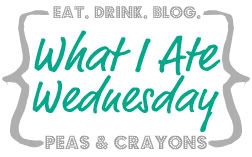 6am – Breakfast part 1 –
Brown rice crackers with peanut butter. < I finally found an efficient way to eat my crackers on days that I walk to work. I went down and made my crackers [When I went to feed the cat] and then brought them upstairs and munched on them while I got dressed after my shower. That way – I could leave to Walk to Work as soon as I was dressed and ready < time efficient for the win!
A kind of sleepy walk to work 🙂
A great way to wake up 🙂
8am – Breakfast Part 2 at work:
Terrible pictures, I am sorry. Hashbrowns < yum, and a peanut butter and jelly sandwhich on gluten free white bread.
12pm: Lunch
Leftovers from the day before – rice, black bean, tempeh (<which, spell check thinks isn't a word?) (<but google does :)), sweet potato, salsa, etc etc casserole from a local vegan restaurant, and strawberries and grapes – which all tasted like cantaloupe (gross! < sorry, cantaloupe so isn't my thing). And – lunch sitting outside. < WINNER.
3pm – a non vegan snack:
Yep. I know that has milk in it. But. Busy afternoon. And it just looked so so good.
5pm: Post walk home snack:
I should have eaten this before walking home. But I forgot. And regretted it. So, as soon as I got home it was this, and a HUGE glass of water. – Lemon Pound Cake ALT bar.
7pm – Dinner
We went out for Japanese veggie plates. The guy at the restaurant knows us by order. < Is that a bad thing? I think he just has a good memory 🙂 Rice, mixed veggies, sweet carrots, and white sauce < which I pretend is vegan. I know it probably isn't. Shh. Don't tell me. :). With the veggie plate we also had salad with ginger sauce and miso soup. A quick dinner out isn't usual for us on a Wednesday night (usually our Thursday night and/or Friday night thing) but…we had a lot of reading to do…
9pm – ish: Dessert:
So Delicious Coconut Almond Bars – vanilla (coconut milk) ice cream with chocolate shell with coconut and almond in the shell. I love love these things. They are so perfect. At first I thought they were expensive compared to their pints of ice cream – but they're really the same price. And there's 4 bars in a box. And I can tell you that a pint of ice cream doesn't last me 4 servings 🙂 < so that's really a good deal! We ate ice cream / dessert while reading our Foster Care Certification class material (for Thursday night). We – somehow – "forgot" to read over the 3 day weekend. So we busted out 100 pages of reading / discussion Wednesday night. Which was the reason for a quick bite out to eat for dinner.
So – there are last Wednesday's eats. I hope everyone is having a fabulous week! You can click here to see other peoples eats! I'll see you guys tomorrow for Thinking Out Loud Thursday!
P.S. –
We should be friends! Find me on Twitter and Facebook
Note – in order to help support the costs of blogging, my site occasionally contains affiliate links. When this happens – everything costs the same for you, but I get a little income as well. Thanks!