Last Wednesday's eats have a major theme…see if you can find it 🙂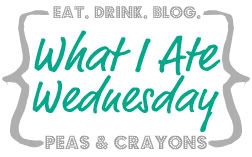 8am – ish – Breakfast.
Yep. You've seen it before. Rice crackers with peanut butter.
All day –
Strawberry and Lime infused water. A few weeks ago I bought my friend an infusion water bottle (with a fruit-holder in the middle) and she's been enjoying infused water. On Wednesday I got majorly jealous and decided I wanted infused water too. 🙂 I don't mind drinking water at all – in fact – I LOVE water – but I had a bit of a sore throat/cold going on (thanks, hubby!) – and so the strawberry lime water was a nice spruce for my numb taste buds :). Also. It's pretty 🙂 …Mason jar lid can be found from Cuppow.
12pm-ish – Lunch
Blue corn chips with black beans, rice and strawberry jalapeno salsa. Oh, and strawberry lime water. AND strawberry pie for dessert (not pictured – because it was kind of just a pile of strawberry-wonderful-mush)
3pm – ish – Afternoon – Pre-Run snack
Chocolate turtle lara bar (IN LOVE) – oh, and water 🙂
Speaking of run…most of my runs are on the same trail system (close to house/work, safe, easy-mentally, etc) – this spring it has been fun to see the trees change from fall, to bare, and now budding back to spring. I love crisp cool runs, but being able to run this week in just t-shirts and shorts without worrying if I'll be warm enough has been wonderful, minimalist and simple. Also – green trees and sunshine? Amazing.
7pm – ish – Dinner
Nachos in a tin foil pie plate. I know it seems silly – but it makes it fun to bake them in the tin foil pie plate, and easy peasy cleanup. This had blue corn chips, black beans, nacho cheese sauce, sauteed vegetables, strawberry jalapeno and tofutti sour cream. Delicious, but my third night in a row eating it – and I was kind of tired of it.
8pm – ish – After dinner TV snack
Uhm. Earth Balance White Cheddar cheese puffs. Uhhhhh. My Name Is Chelsea and I Have a Serious Addiction To These. I may have eaten an entire bag this night. Opps. 🙂
Happy Wednesday, everyone! Click here to see other people's eats, and I'll see you tomorrow for Thinking Out Loud!
P.S. –
We should be friends! Find me on Twitter and Facebook
Note – in order to help support the costs of blogging, my site occasionally contains affiliate links. When this happens – everything costs the same for you, but I get a little income as well. Thanks!