This week has been shoved in the middle of lots of crazy crazy activities. But, let's take two minutes to look at last weeks eats!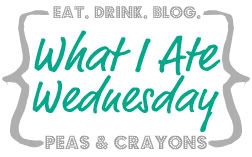 8am – Breakfast
So painfully typical. Rice crackers with peanut butter.
12pm-ish – Lunch
Tomato soup and Potatoes
3pm-ish – Afternoon snack
Larabar ALT Lemon Poundcake – as the days get longer, my afternoon snacks become even more important. Love these little things!! And I especially love that they're selling them now at my grocery store. Waho!
530pm-ish – What was going to be a pre dinner snack but turned out to be dinner:
Nacho cheese dip with black beans and blue corn chips. I planned to eat more later, but that never happened.
So – those are last Wednesday's eats! I hope everyone is having a wonderful week and I'll see you tomorrow for Thinking Out Loud Thursday!! If you want to see other peoples eats, click here!
P.S. –
We should be friends! Find me on Twitter and Facebook
Note – in order to help support the costs of blogging, my site occasionally contains affiliate links. When this happens – everything costs the same for you, but I get a little income as well. Thanks!