For this weeks eats were are linking up with Peas and Crayons! Check it out!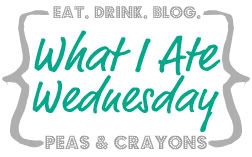 8am – Breakfast
Let me know when you guys are sick of the crackers in that bowl and I'll take a new picture, m'kay? Rice crackers with peanut butter, and a smoothie bowl. Which…I must say…I had grand plans on it looking beautiful with all the toppings decorating the top, but it was too thin, and all of the topping sunk to the bottom. 🙁 …But I topped it with – bananas and pretzel-granola – more on that in a minute.
12pm –
Pesto pasta with cherry tomatoes. Which, didn't look nearly that pretty when I ate it at work. (that picture is from the night before).
2pm-ish-Afternoon Snack
Pretzel – Granola. OMG I AM ADDICTED. I wanted a sweet/salty trail mix the other night, so I crushed up some (gluten free) pretzels, added some peanuts, drizzled on maple syrup and melted coconut oil and baked (at 200 for about 1 hour). Oh man. SO AMAZING. I ate the entire bowl at my desk this afternoon.
8pm-ish
Homemade pizza – with – Gluten free crust, tomato sauce, pesto (from pasta above), onions, mushrooms, spinach and cherry tomatoes. SO GOOD. I ate the entire thing 🙂
SO – those were my eats last Wednesday! I hope you are enjoying the LAST day of April (Geez!). I'll see you tomorrow (IN MAY!) for Thinking Out Loud Thursday!
Click here to see other people's eats!
P.S. –
We should be friends! Find me on Twitter and Facebook
Note – in order to help support the costs of blogging, my site occasionally contains affiliate links. When this happens – everything costs the same for you, but I get a little income as well. Thanks!