What I ate Wednesday came in this week by the skin of it's teeth. I usually share my meals from the Wednesday before (so, a week ago). But taking pictures that day didn't happen (read – two procedures at two different specialists that left me couch – bound most of Wednesday). I tried again on Thursday – that didn't happen either (read – tried to go back to work // yeah that was a bad idea // ended up at home on the couch – again, then had our first (yay) foster/adopt class that night). Friday was also a bust (read – side effect of Wednesday's procedure? Nausea. Not much food happened on Friday). So – pictures were FINALLY taken on Monday. Like I said – in by the skin of it's 'What I Ate' teeth 🙂
BUT – I am here. So let's link up with Peas & Crayons and share some eats on a holiday Monday!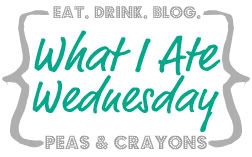 830am – ish (No work = sleep late(r) than usual :))
The usual – Rice crackers with peanut butter
1130ish – Lunch, of sorts
Amy's dairy free/gluten free burrito – we LOVE these, and strawberries (welcome back to my life, little red friends :))
Oh. And. Uhm. I may have eaten about 10 of these throughout the day – peanut butter melted and combined with some powdered coconut sugar. My avoidance of dairy-filled Easter candy. I was planning on dipping them in melted chocolate, but that just seemed too..messy. As they were they turned out delightful. 🙂 …Although – Nathan kept asking where the chocolate was in my 'chocolate covered peanut butter balls' (TWSS) hehe
1pm – ish – Snack Time
We decided to go on a hike (it was beautiful out!! and my body was finally saying 'okay, you can be away from a couch for more than 20 minutes'). We stopped and got some snacks for pre-hike – because – I'm pretty sure Nathan had only had donuts to eat all day 🙂
8pm – ish – Dinner
Chipolte's! Funny story, though. We just got a Chipolte about 3 weeks ago here in our town. Before that, we had to go to one in a town about 1 hour away. Monday night we were trying to figure out what to do, and Nathan said 'Let's go to (that town) and get Chipolte!! I laughed and reminded him that …uhm… we have one of those now! But, he sold me on also going to Target – so we went anyways 🙂 Veggie bowl – which I ate with an entire bag of chips. I think they put drugs in those chips. How are they so good?!
So those were my Monday-Holiday-Finally-Feeling-Like-A-Person-Again-Eats 🙂
I hope everyone is having a great week!! Click here to read other people's eats and I'll see you tomorrow for Thinking Out Loud Thursday!
P.S. –
We should be friends! Find me on Twitter and Facebook
Note – in order to help support the costs of blogging, my site occasionally contains affiliate links. When this happens – everything costs the same for you, but I get a little income as well. Thanks!