Last week was incredibly busy.  Spring busted out full force, and so did things like running every day, walking to work, and lots of social time.  So – WIAW is missing a few pictures, but you'll get the gist 🙂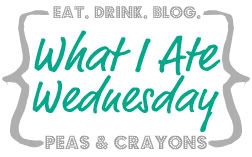 630-am-ish – 
I walked to work Wednesday morning – so I hate Peanut Butter on Rice Crackers before I left.  Then, yogurt with bananas and pecans when I got to work.  Recycled photo with them both in it. 
How can you not walk to work, with views like this?!
8am – ish
The above mentioned yogurt, plus some fresh OJ
11-ish
Lara Bar Dark Chocolate Turtle.  I'd never tried this before but it was AWESOME!
12pm – Lunch
Total failure at getting a lunch picture – but it was Chinese Rice and Baked Beans.  Yeah.  Not awesome combo.  Don't suggest it.
5pm – Walk home grocery stop
Walking to work means walking home – which means groceries in the backpack…Cilantro, green onions, carrots
530pm – Post walk home/pre dinner snack
This hummus?  Best. Ever.  Added some corn chips.  Yum.
630pm – Dinner
Peanut Butter Thai Sauce with Potato Noodles.  Similar to this soup, then add spiralized potato noodles. 
So – that was my day.  And a pretty typical all over the place Spring week day.  I hope everyone is having a great week…
Click here to see other people's eats, and I'll see you tomorrow for Thinking Out Loud Thursday!
P.S. – 
We should be friends! Find me on Twitter and Facebook
Note – in order to help support the costs of blogging, my site occasionally contains affiliate links.  When this happens – everything costs the same for you, but I get a little income as well.  Thanks!