This week I am joining Peas and Crayons again for 'What I Ate Wednesday'  –  A place to show you my everyday foods and to show off my phone-camera-skills! Happy Wednesday!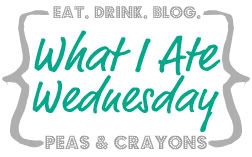 8am-ish – Breakfast
Rice Crackers + Peanut Butter, Homemade Vegan Yogurt with Pears (much better pictured in the bottom photo), and potato pancakes (which are amazing) with salsa (which wasn't as good as I thought it would be)
Lunch – 12ish 
I took a page out of Amanda's book, and made a lunch snack plate.  Corn chips with beans, salsa and guacamole, kale salad with oranges and lettuce. Uhm.  I think I used the lettuce with the salsa/chips.  
Cooking Dinner Snack – 6pm-ish
Snyder's gluten free Honey Mustard Pretzels.  Addicted. 
Dinner – 7pm-ish
Pecan Tomato Orange Sauce over Sweet Potato Noodles.  Uhm.  Yeah.  I licked the bowl.  SO GOOD. 
8pm-ish – Dessert
So Delicious Turtle Trails Ice Cream.  At which point I swore off ice cream for a while.  I've become a bit dependent on it.
Those were my eats last Wednesday! Want to see other people's eats?  Click here!
I'll see you tomorrow for Thinking Out Loud Thursday!
P.S. – 
We should be friends! Find me on Twitter and Facebook
Note – in order to help support the costs of blogging, my site occasionally contains affiliate links.  When this happens – everything costs the same for you, but I get a little income as well.  Thanks!