Last week was my first What I Ate Wednesday, and I really enjoyed getting to meet new people, so I decided to join up again this week!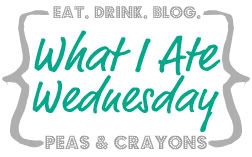 This weeks eats are actually from Wednesday – but, last Wednesday.  They are much more 'typical eats' for me than you saw on my first two-meal-day
last week on WIAW
.  I will put out this disclaimer – I was out and about for most of these pictures, so they're definitely camera-phone-ridden.   But – that's real life 🙂
8-ish-am : Breakfast : Recycled Photo From Last Week – but it was the same thing
Peanut butter on rice crackers, homemade yogurt with pecans, bananas, coconut, cinnamon.  I also had hashbrowns, which I failed to picture.
12pm – Lunch
Potatoes, Stewed Tomatoes, Pinto Beans (all from the cafeteria), and sweet potato soup with chipotle sauce (from home)
Post Lunch Afternoon Slump – A few too many of these were consumed :
Hersey kisses with Almonds, a total drain on the blood sugar…which led to the need for a protein source…
Afternoon Snack Number Two
[Sorry for the blurry picture] Lara Bar Lemon Pound Cake – with protein.  Dear Sugar – we need to break up. 
6pm-ish – While Prepping Dinner
The Mango.  Featured last week in WIAW, but never eaten, until tonight, when I destroyed it. 
7pm – Dinner

Tacos with : Rice, Navy Beans, Salsa, Lettuce, Avocado, Tofutti Sour Cream, Mangoes and Chipotle sauce
Dessert:
Vegan/GF Chocolate Chip Cookie.  Almost completely eaten before I remembered to snap a picture. 
So, those were my eats! I hope you enjoyed them! I can't wait to see yours!
You can catch up with other awesome eats here.
I'll see you guys tomorrow for Thinking Out Loud Thursday!
P.S. – 
We should be friends! Find me on Twitter and Facebook
Note – in order to help support the costs of blogging, my site occasionally contains affiliate links.  When this happens – everything costs the same for you, but I get a little income as well.  Thanks!