I've been watching What I Ate Wednesday posts from the sidelines for a while.  They looked like fun – if nothing else than an outlet to continue to meet other bloggers, and to have a food journal, of sorts, when I'm stumped for food ideas.  So I decided to give it a shot.  This week I am joining Peas and Crayons' What I Ate Wednesday roundup.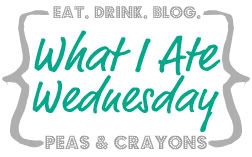 I figured I had the perfect opportunity to catch some yummy meals this past Friday, because I was taking a vacation day (to spend some time with Nathan, since he was on spring break).  It was a great idea, and I did eat some yummy foods – but it was such an atypical eating day for me.
 Hello sleeping until 1130am.
  So, I'll preface this 'What I Ate
Wednesday 
Friday' with saying, I really like food, and I sure didn't eat very much of it on this day.
1130am – (I would usually be at least 2 meals in at this point)
Peanut Butter on Rice Crackers.  Homemade plain yogurt with bananas, pecans, cinnamon and shredded coconut.
And a cat who wouldn't leave my side.  Well, I didn't eat him 🙂
Post – Run I decided to stop at the store to get a sweet potato to make a soup for late-lunch.  But, I was a tad bit hungry (bad timing) and ended up with much more than a sweet potato.
230pm snack – 
Spicy Thai kettle chips, a green juice that wasn't-awesome, and a mango, that I ended up being to lazy to cut up after I took the picture.
Late Lunch / What ended up being dinner came around 530pm –
Thai sweet potato and carrot soup. x 3 bowls.  Made in the Instant Pot.  
I rounded the evening off around 930pm with a glass of cinnamon tea, which I failed to take a picture of.
Next WIAW I promise to have a more normal day.  🙂
Catch up with other awesome eats here!
See you guys tomorrow for Thinking Out Loud Thursday!
P.S. – 
We should be friends! Find me on Twitter and Facebook
Note – in order to help support the costs of blogging, my site occasionally contains affiliate links.  When this happens – everything costs the same for you, but I get a little income as well.  Thanks!